Qualifications
The Irish National Framework of Qualifications, established in 2003, is a framework through which all learning achievements may be measured and related to each other in a coherent way.
The many different types and sizes of qualifications included in the NFQ are organised based on their level of knowledge, skill and competence. Because all NFQ qualifications are quality assured, learners can be confident that they will be recognised at home and abroad.
Quality and Qualifications Ireland (QQI) has a responsibility to develop, promote and maintain the Irish NFQ. QQI also facilitates the recognition of foreign qualifications.
The list of Early Years qualifications recognised for the purposes of meeting the requirements of the Regulations and DCYA Childcare Programmes Contracts can be found by clicking the link below:
Early Years Recognised Qualifications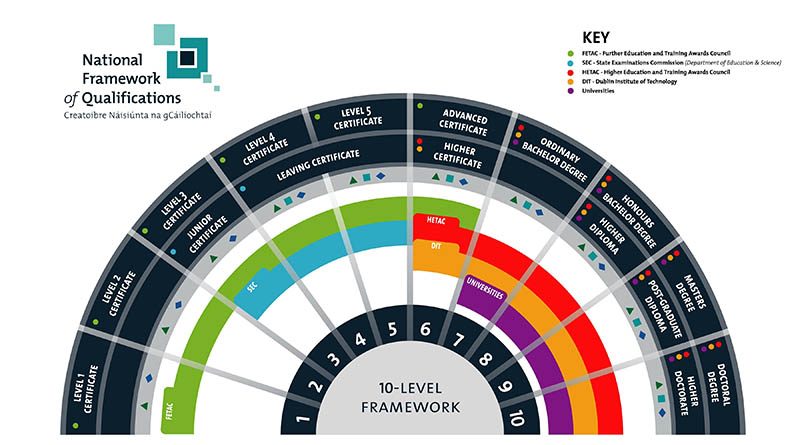 ---
Higher Education
Level 7
Institute of Technology, Carlow in partnership with Carlow and Kilkenny County Childcare Committees offer a Level 7 Bachelor of Arts in Applied Early Childhood Education & Care. This Bachelor of Arts programme which is part funded by skillsnet is designed for those who hold a full QQI level 6 major award in childcare and who are working full time in the sector with at least 3 years experience. 
Level 8
IT Carlow also offer a BA (Hons) in Early Childhood Education & Care and a Higher Diploma of Arts in Early Childhood Education and Care.
The overall aim of the programme is to provide students with the knowledge, understanding and competencies required to provide care and education for young children (0-6 years) in a range of Early Years Settings. The general aim is to develop early childhood professionals who have a specific expertise and a specialised knowledge base, competent to deliver and manage quality services to children and families. 
Level 9
Carlow CCC are very happy to announce that year one of the Masters of Arts in Leadership in Early Years Education and Care (Level 9) will commence in IT Carlow in September 2018. In recognition of the commitment to continuing professional development from practitioners in Co. Carlow and Co. Kilkenny, Carlow CCC and Kilkenny CCC have worked with Carlow/Kilkenny Skillnets to secure funding which will part fund this Masters programme. This programme will prepare students and current practitioners for leadership and management roles in the operation of early childhood education services and related public policy.
Further Education
Level 5 / Level 6
This course/programme prepares students to work with young children aged 0 – 6 in a variety of childcare settings. The award will provide participants with skills, knowledge and competence to work as a childcare professional within the childcare and early education sector.
CE Scheme
Since 2013 there is a CE Childcare Training and Development Programme for CE participants who wish to pursue a career in childcare.  It is a 3-year programme of formal learning and work experience leading to an NFQ Level 5 or 6 qualification in early childhood care and education.
Carlow Early Years Training Scheme can be contacted on 059-9134996.
Training provided by Carlow County Childcare Committee
Diversity, Equality and Inclusion (DEI) Training 
An element of the universal supports (Levels 1-3) for the early years sector includes a new Inclusion Charter underpinned by updated Diversity, Equality and Inclusion Guidelines for Early Childhood Care and Education. 
Funding has been made available under the AIM programme to provide for training for all service providers on the guidelines and charter.
The training available will be a 15hr programme on Equality Diversity and Inclusion and will be delivered free of charge by Carlow CCC, contact 059 9140244 for more information.
---
Aistear Síolta initiative
The National Síolta Aistear Initiative (NSAI) has been developed to provide central support and coordination of Síolta and Aistear implementation across the early childhood sector. The initiative has two strands. The first will focus on Síolta, including the introduction of Síolta awareness raising workshops and the expansion of the Síolta Quality Assurance Programme (QAP). The second strand relates to Aistear and will see the development of workshops and coaching to support practitioners to use Aistear in their setting. Carlow CCC under the NSAI offer the following support to Early years services in Carlow:
The Síolta Aistear Practice Guide Introductory Workshop

Síolta awareness raising workshops

Aistear Workshops

Aistear Síolta Mentor support

Síolta Quality Awareness Programme (QAP)
---
Child Protection Training
Children First, National Guidance for the Protection and Welfare of Children 2017, applies to all those working in a voluntary or paid capacity with children and families. It outlines the roles and responsibilities in relation to recognising, responding and reporting child protection and welfare concerns.
Carlow CCC has responsibility for the delivery of Tusla's Always Children First Child Protection training in the Early Years sector in Carlow.  This is the standard certified Child Protection training module for the Early Years sector and it is the training which the Tusla Early Years Inspectors will require when training becomes part of the inspection process. 
For more information on any of our upcoming Child Protection Training, please see the Training section of our Website or call us on 059-9140244.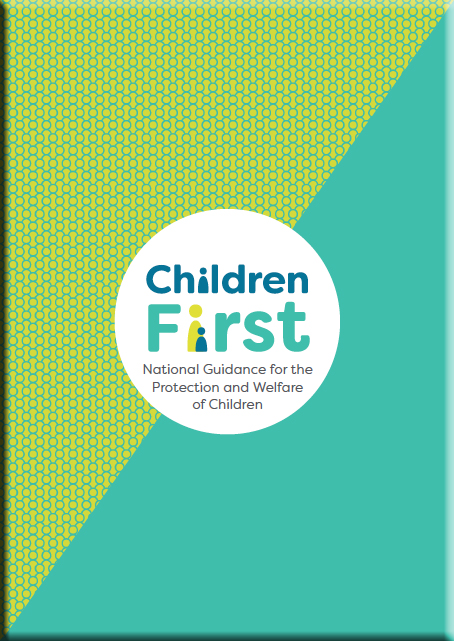 Ireland's National Child Protection and Welfare Guidance Training
It is recommended that everyone involved in early years services including staff, board members and volunteers complete the Tusla Children First e-learning programme