AISTEAR INFORMATION FOR PARENTS

Parents play a key role in their children's education.  Effective early childhood settings and schools take account of the influence of the home on children's learning and they build on the experience children bring to the setting or school.  Establishing strong links with parents helps make children's education as successful as possible.
The NCCA developed Aistear: The Early Childhood Curriculum Framework (2009) in partnership with the early childhood sector.
For more information and lots of useful resources go to the National Council for Curriculum and Assessment (NCCA) Aistear Toolkit at www.ncca.ie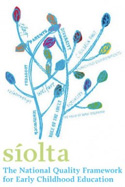 SÍOLTA INFORMATION FOR PARENTS
Síolta, the National Quality Framework for Early Childhood Education is designed to define, assess and support the improvement of quality across all aspects of practice in early childhood care and education (ECCE) settings where children aged birth to six years are present.
 For more information to go to www.síolta.ie
PARTNERSHIP WITH PARENTS
Parents and professionals working in partnership benefit children. The essence of partnership is respectful listening and sharing of information between parents and practitioners about children's learning and development at home and at an early childhood care and education (ECCE) service. The partnership involves responsibility on both sides.
Please click here for more information on Partnership with Parents