Aistear Siolta & the Practice Guide

Aistear is the curriculum framework for children from birth to six years in Ireland. It provides information for adults to help them plan for and provide enjoyable and challenging learning experiences, so that all children can grow and develop as competent and confident learners within loving relationships with others. The four main goals of Aistear is to support a child's sense of Well-being, Identity and belonging, exploring and thinking, communicating. Aistear describes the types of learning (dispositions, values and attitudes, skills, knowledge, and understanding) that are important for children in their early years, and offers ideas and suggestions as to how this learning might be nurtured.
Click here to view the AISTEAR- Principles and Themes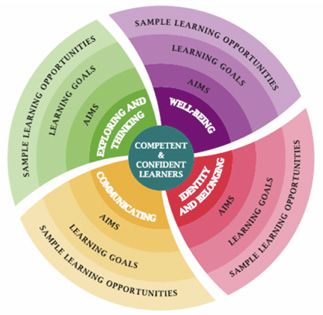 Síolta, the National Quality Framework for Early Childhood Education, was developed by the Centre for Early Childhood Development and Education on behalf of the Department of Education and Skills, published in 2006.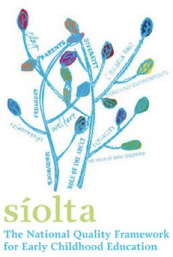 Síolta is comprised of three distinct but interrelated elements: Principles, Standards and Components of Quality. The 12 Principles provide the overall vision of the Framework, while the 16 Standards and 75 Components allow for the practical application of this vision across all aspects of ECCE practice. The Components of Quality are further explained by a set of Signposts for Reflection and 'Think-abouts' which are intended to support practitioners in early education settings to become aware of and critical of their practice.
Síolta is designed to define, assess and support the improvement of quality across all aspects of practice in early childhood care and education (ECCE) settings where children aged birth to six years are present.
Click here to view the Siolta User Manual

The Aistear Siolta Practice Guide is a tool used to support practitioners in using Aistear: the Early Childhood Curriculum Framework (2009) and Síolta, The National Quality Framework for Early Childhood Education (2006) together to develop the quality of their curriculum and in doing so, to better support children's learning and development. The Practice Guide includes a range of resources to help practitioners to critically reflect on their curriculum and to identify what works well.
Click here to view the Aistear Siolta Practice Guide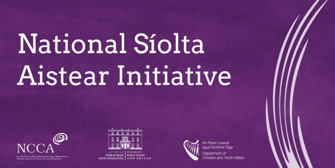 The National Síolta Aistear Initiative (NSAI) has been developed to provide central support and coordination of Síolta and Aistear implementation across the early childhood sector. The initiative has two strands. The first will focus on Síolta, including the introduction of Síolta awareness raising workshops and the expansion of the Síolta Quality Assurance Programme (QAP). The second strand relates to Aistear, and will see the development of workshops and coaching to support practitioners to use Aistear in their setting.
Carlow CCC under the NSAI offer the following support to Early years services in Carlow:
The Síolta Aistear Practice Guide Introductory Workshop

Síolta awareness raising workshops

Aistear Workshops

Aistear Síolta Mentor support

Síolta Quality Awareness Programme (QAP)
For more information on any of our upcoming NSAI trainings, please see the Training section of our Website or call us on 059-9140244.