Childminding
A childminder is a person who provides a safe, caring, stimulating environment for a relatively small, mixed age group of children, for more than 2 hours per day, in the childminders own home. The hours can be full time, part time or flexible (and may include an overnight service) to suit parents and childminder. Parents and childminder negotiate their own terms of payment, hours of placement etc.
Childminding is valued as another option for parents when choosing the type of childcare that suits the needs of their family. It is the traditional model of childcare in Ireland. Childminding represents the largest type of childcare being used by families of early years children in the country today.
START UP
If you are thinking of setting up a Childminding Service, Carlow CCC offers a range of supports, contact Carlow CCC on 059 9140244 and we will arrange a Start Up Meeting for you with one of our Development Officers who will walk you through all your options.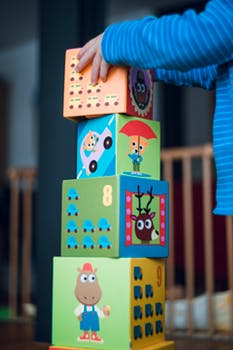 STATUTORY REGULATIONS 
The Department of Children and Youth Affairs (DCYA) has responsibility for  Regulations and for developing policy in the Early Years sector while the Child and Family Agency (Tusla) is charged with ensuring the health, safety and welfare of pre-school children attending Childminding services through regular inspections.
Under the  Child Care Act 1991 (Early Years Services) Regulations 2016 and The Child Care Act 1991 (Early Years Services)(Amendments) Regulations 2016 a registered childminder can care for up to 5 preschool children, including his/her own children. A childminder can have no more than 2 children less than 15 months old in their care. Exceptions include if the minded children come from the one family, the children are related to the childminder or their spouse or the children are the childminders own children.
Please click here to access the Tusla's Frequently Asked Questions.
Childminders who mind four or more unrelated pre-school children must register with Tusla, 3 months prior to commencement, once registered childminders are eligible to apply for Govenment Funded Schemes and Childminding Development Grants (see below).
If you are interested in learning more about registering with Tusla please contact Carlow CCC, 059 9140244 or the Pre-school Inspector in your local Tusla Office. For more information, see New Registrations.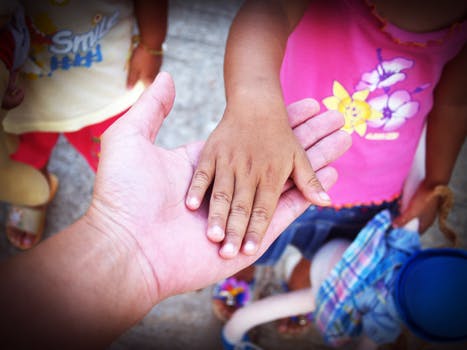 Tusla's Early Years Inspectorate has published a Quality and Regulatory Framework (QRF), to help childcare services to comply with the Regulations. The QRF applies to all registered childminding services and is aimed to help and support registered Early Years Services including childminders to comply with the Childcare Act 1991 (Early Years Services) Regulations 2016. It sets out the Early Years Inspectorate's interpretation of these regulations in a transparent way and presents the scope of how the inspectorate will assess services for compliance with these regulations which, in turn, will promote the quality and safety of services provided to children.
Pobal on behalf of the Department of Children and Youth Affairs (DCYA),  conducts compliance visits with each participating childcare service who provides one or more of the National Childcare Programmes including ECCE, CCSP, CCSP(U) which are available to registered childminders.
We advise services to maintain a compliance folder/file which can be made readily available to the visiting officer on arrival. This will ensure minimum disruption and speed up the compliance visit. We understand that some services file their records in other ways, but records must be available to enable the visiting officer to complete the compliance visit in a reasonable timescale.  
Carlow County Childcare Committee' development officer are available to support Childminding services in relation to statutory regulations, Contact 059 9140244.
---

GOVERNMENT FUNDED SCHEMES
The Department of Children and Youth Affairs (DCYA) operate a number of Childcare Schemes. These schemes provide free or reduced rate childcare to eligible children and their parents. The link below outlines the Rules for DCYA Funding Programmes.
Rules For DCYA Funding Programmes 2018-2019
Early Childhood Care and Education (ECCE):
This programme is a universal childcare programme otherwise known as 'free pre-school' with the stated objective of providing children with their first formal experience of early learning. It is delivered to children of pre-school age (2 years 8 months to 5 years 6 months) prior to commencing primary school and is provided for 3 hours per day, 5 days per week over 38 weeks per year.
There is an ECCE calculator on our home page for your use.
For further information click here: ECCE Parent Information leaflet
Community Childcare Subvention Plus (CCSP): This programme provides childcare funding support targeting low income families in private childcare services and community childcare services.
Community Childcare Subvention Universal (CCSU): All families are eligible for financial childcare support for children between the ages of six months and the time at which they are eligible for the free pre-school programme. This subsidy will NOT be means tested and therefore will be available for families at any income level. To qualify the parent must provide both the child and parent PPS number to the childcare provider.
For any additional information please contact Carlow County Childcare Committee on 059 9140244 
OR
visit :  http://affordablechildcare.ie
NEW Affordable Childcare Scheme 2019
Minister for Children and Youth Affairs, Dr Katherine Zappone, has announced that the new Affordable Childcare Scheme will open for applications in mid- October 2019, with payments flowing from November 2019.  The scheme will offer a single, easy to access system of financial subsidies towards childcare for families in Ireland.  Through this, it will enhance affordability and accessibility, and provide a platform for investment in quality childcare to benefit current and future generations.
For any updates on the NEW Affordable Childcare Scheme click here: https://www.dcya.gov.ie/
PIP
What is PIP?
The Programmes Implementation Platform (PIP) is an online system which captures information on children under the schemes services provide.
Pobal continually update the Frequently asked question section of the PIP website to assist you in your preparations and keep you informed.  It is important to check in regularly to keep your service up to date on any new announcement.
Contact your local CCC or the PIP Online Support Team (Monday to Friday) at onlinesupport@pobal.ie or phone 01 – 5117222.  Please have your DCYA Reference number(s) ready.
Childminding Development Grants (CMDG)
The CMDG is a Grant of up to €1,000 available specifically for the development of Quality in Childminding services. For More information please contact Carlow CCC on 059-9140244.

Garda Vetting
It is required that all registered Childminders, emergency contact person and any adult who may be in contact with the children in the service, apply for Garda Vetting. Under the Child Care Act 1991 (Early Years Services) Regulations 2016 all staff, students, and volunteers who have access to children should be Garda Vetted. You should include all adult family members and your emergency contacts.
Contact Barnardos Vetting Service on (021)4547060 or by e-mail vetting@barnardos.ie and ask for the childminders info pack.
References
A childminder must show at least two written past employer references (one being most recent employer) if they have been in previous employment. References must be from reputable sources if a person had no past employers, be in writing, dated and signed by referee stating position held, contain the address, phone number, logo or headed paper of the referee and the organisation's stamp where applicable. All references must be validated by TUSLA Early Years Inspectorate.
Qualifications
To register with TUSLA, a childminder must hold a minimum of a major award in Early Childhood Care and Education at Level 5 on the National Framework of Qualifications, a qualification deemed by the Minister to be equivalent, an exemption from the qualification requirement and confirmation that this exemption is accepted by the Minister or the qualification requirement or relevant specialist training and the basis on which the capitation may be used for a person employed under the Access and Inclusion Model (AIM), detailed in an exemption letter from Pobal.
The list of Early Years qualifications recognised for the purposes of meeting the requirements of the Regulations and DCYA Childcare Programmes Contracts can be found by clicking the link below:
Early Years Recognised Qualifications
Childminding Insurance
Many home insurance policies cover childminding for up to two additional children and can be extended to mind up to 6 children. Please check with your home insurance provider and inform them that you are providing a childminding service out of your home.
Childminding Ireland offers members a group insurance scheme in association with Kidd Insurance. To access the special discounted members rate of €220 contact Kidd Insurance on 01 207 9400. The Group Scheme Insurance policy covers you to mind up to 6 Children at any one time (a maximum of 5 pre-school children) subject to compliance with regulations. This insurance covers Childminders to take minded children on outings.
For more information please contact Childminding Ireland at 01 287 8466 or e-mail info@childminding.ie or visit their website Childminding Ireland Insurance.
Childminders Tax Relief Scheme
If you provide a childminding service in your own home, you may claim childcare services relief each year.
In order to qualify you must:
Not receive more than €15000 income per annum from the childminding activity.
Not mind more than three children, who are under the age of 18 years, at any one time.
Be self-employed and registered for self-assessment.
Show you have notified TUSLA that you have, will be or are providing childcare services.
Under this scheme, you are NOT liable for the Universal Social Charge (USC), but you may make PRSI contributions (Class S). This is set at the minimum amount for those claiming this relief. Currently PRSI minimum contribution is €500 per annum.
If you mind 4 or more children at any one time, or if you earn over €15,000 per year gross, you must register with Revenue, make an annual tax return and pay taxes in the same way as any other self-employed person. Complete a TR1 Tax Registration Form and return it to your local tax office.
For more information visit www.revenue.ie.
CHILD PROTECTION
The Child and Family Agency has a primary responsibility to promote the safety and well-being of children. An Garda Síochána also have statutory responsibilities for the safety and welfare of children.
Everyone must be alert to the possibility that children with whom they are in contact may be suffering from abuse or neglect. Tusla should always be informed when a person has reasonable grounds for concern that a child may have been, is being or is at risk of being abused or neglected.
The Children First Act 2015 was enacted on 19th November 2015 and commenced in full on December 11th 2017.
The Act places a number of statutory obligations on specific groups of professionals (including registered childminders) and on particular organisations providing services to children.
Through the provisions of the Act, it is intended to:
Raise awareness of child abuse and neglect
Provide for mandatory reporting by key professionals
Improve child safeguarding arrangements in organisations providing services to children
Provide for cooperation and information-sharing between agencies when Tusla – Child and Family Agency, is undertaking child protection
The policy's intent is that the legislation will operate side-by-side with the existing non-statutory obligations provided for in Children First: National Guidance for the Protection and Welfare of Children (2017)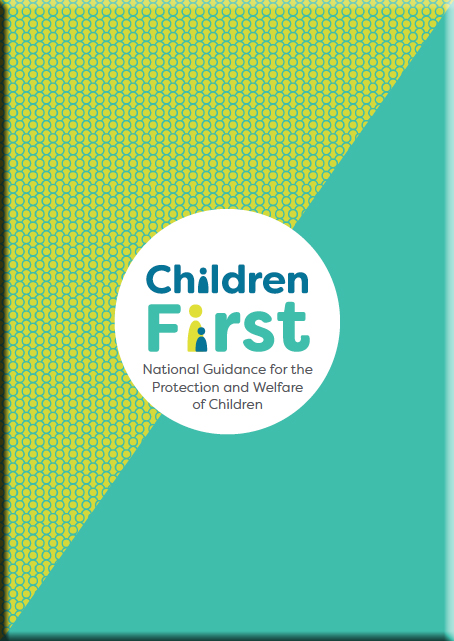 The Criminal Justice (Withholding of Information on Offences against Children and Vulnerable Persons) Act, 2012 and the National Vetting Bureau (Children and Vulnerable Persons) Act, 2012 are additional key pieces of complementary legislation designed to improve child safety and protection.
Ireland's National Child Protection and Welfare Guidance Training
It is recommended that Childminders complete Tusla's Children First e-learning programme.
Carlow CCC has responsibility for the delivery of Tusla's Always Children First Child Protection training for the Early Years sector in Carlow. This training is valid for 3 years.  For more information on any of our upcoming Child Protection Training, please see the Training section of our Website or call us on 059-9140244.
Suggested Links
5 Steps to Prepare for Mandatory Reporting
Developing-a-Child-Safeguarding-Statement-Draft-Jan-29-2018 (1)
Tusla's guide for the reporting of child protection and welfare concerns
First Aid Responder (FAR) Reimbursement – Registered Early Years Service & Registered Childminders
Under the Child Care Act 1991 (Early Years Services) Regulation 2016, a new regulatory requirement will come into force from June 1st 2020. From this date, under regulation 25, there must be a person(s) who has trained in FAR (First Aid Response) with a trainer approved by the Pre-Hospital Emergency Care Council (PHECC) immediately available to children attending the service.
On completion of this 3-day/18 hour course, the First Aid responder will be equipped with the necessary practical skills, knowledge and confidence to give effective life support, diagnose and treat injuries or illness and maintain care and comfort to a patient who has become suddenly ill or injured in the workplace or elsewhere until the arrival of emergency medical services.
To support the sector to meet this requirement services can claim back the cost of one person attending FAR (either full or refresher) on behalf of your service. To do this you must:
• Submit the attached First Aid response reimbursement fund application form
• A copy of the FAR certificate
• A receipt for the cost of the course.
The maximum a service can claim is €225 per full course and €175 per refresher course.

Click below for the following:
• FAR Communication to Registered Providers Registered Childminders
• FAR Reimbursement Application Form
• Phecc Accredited FAR Trainer list
Please note that Carlow CCC list of trainer is not exhaustive and you are free to book a course with any PHECC registered FAR training provider locally. This list does not represent a recommendation by Carlow County Childcare Committee, it is for information purposes only.
For further information and support, please do not hesitate to contact Carlow CCC by emailing connie@carlowccc.ie or call 059 9140244.
---
Recommended Websites:
National Guidelines for Childminders
Childminding Ireland Siolta Aistear Guide 2015