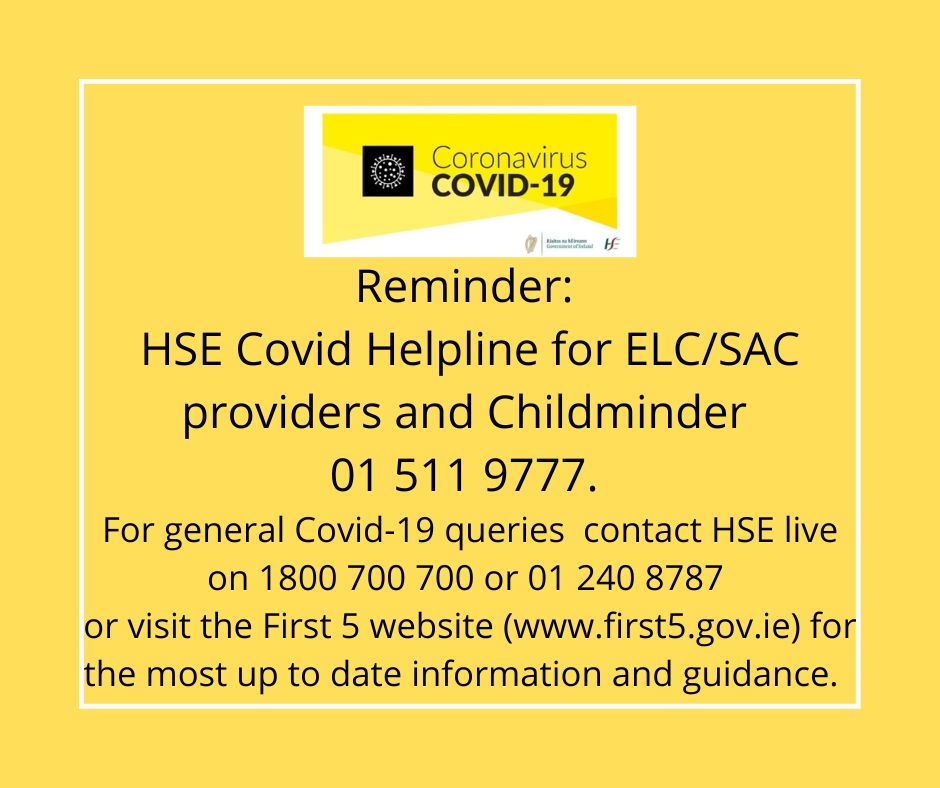 Guidance for Providers and Practitioners [Updated 19/10/2022]
This section contains a number of resources that have been developed to guide and assist providers and practitioners for the reopening and operation of their service(s) during COVID-19.
HPSC Public Health Advice for the management of COVID-19 cases and contacts 10/3/22
Public Health Advice for the management of COVID-19 cases and contacts [Here]
Digital pack For Pre-school and Childcare Practitioner
To help practitioners limit the spread of COVID-19 the department has prepared a digital pack with various resources and information on the prevention of COVID-19. You can download the digital pack for use in your pre-school or childcare setting through the links below.
Digital pack contents:
Guidance for you and your sector
Preparation Documents
Guidance for buying and maintaining air cleaners (DCEDIY Dec 21)  [Download here]
Guidance on Non-Healthcare Building Ventilation During COVID-19 [Download Here]
FAQs for Primary School Principals, Early Learning and Care (ELC) and School Age Childcare (SAC) Managers or those hosting sports/social activities for children aged 3 months to less than 13 years, 2 March 2022 [Download Here]
The 30 City and County Childcare Committees (CCCs) are also available to provide advice and support to early learning and care and school age childcare services. Contact details for your local CCC can be found at www.myccc.ie.
HSE Public Health operates a dedicated helpline for ELC/SAC services that provides support for services with a confirmed case of COVID-19. You can access the helpline on 01-5119777.
Practice Supports [Updated 6th May 2021]
This section provides tailored information for Practice Supports.
Pre-school at Home Hub
The Department has established a Pre-School at Home Hub to support parents and practitioners. The Preschool at Home Hub has lots of new and existing resources in one convenient place. Early Learning and Care settings have been asked to connect with families to support the children in their setting. Some guidance to support you in relation to connecting with parents is provided below.
To visit the Pre-school at Home hub click on the link here:  Pre-School at Home Hub
FAQs will continue to be updated at appropriate intervals
Useful links
Visit the First 5  website for more information and click on 'Guidance for Providers and Practitioners'.
The new childminding webpage www.gov.ie/childminding is now live. On the website you can find Childminder Guidance during Covid 19.