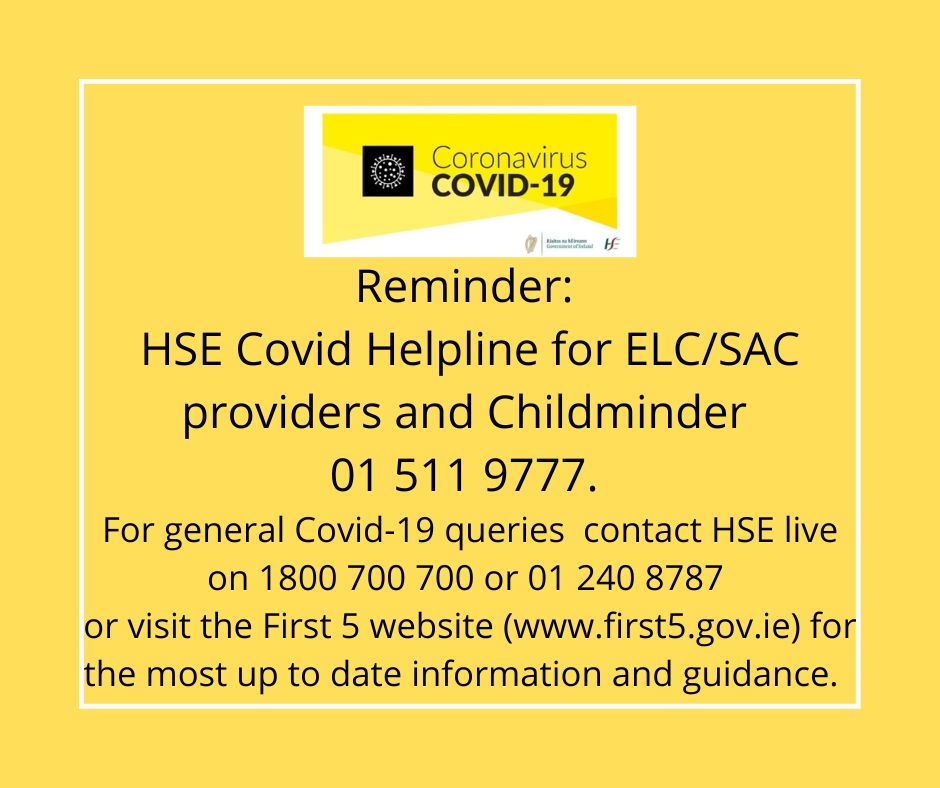 Guidance for Providers and Practitioners [Updated 06/05/2022]

This section contains a number of resources that have been developed to guide and assist providers and practitioners for the reopening and operation of their service(s) during COVID-19.

HPSC Public Health Advice for the management of COVID-19 cases and contacts 10/3/22

Public Health Advice for the management of COVID-19 cases and contacts [Here]

Digital pack For Pre-school and Childcare Practitioner

To help practitioners limit the spread of COVID-19 the department has prepared a digital pack with various resources and information on the prevention of COVID-19. You can download the digital pack for use in your pre-school or childcare setting through the links below.

Digital pack contents:

Guidance for you and your sector

Update – Informing parents in relation to a positive covid-19 case within an Early Learning and Childcare setting:

Following the announcement on the 14th December 2021 of the introduction of an antigen programme in Early Learning and Childcare, settings were notified that they should inform parents of a positive case in children 4 years and older to enable them to access the antigen programme. As many ELC settings have mixed age play-pod/rooms it is appropriate to operate one policy across the setting in relation to informing parents of an identified positive case, regardless of eligibility for the antigen programme.

It is important to note that informing parents should be underpinned by the principle of respecting the right to privacy of individual children and families. In addition, information provided as part of the antigen programme provide next step advice to parents. Therefore, when contacting any parent to inform them of a positive case the setting should remind them to follow advice available on the HSE and HPSC websites.

Preparation Documents

Guidance for buying and maintaining air cleaners (DCEDIY Dec 21)  [Download here]
FAQs for Primary School Principals, Early Learning and Care (ELC) and School Age Childcare (SAC) Managers or those hosting sports/social activities for children aged 3 months to less than 13 years, 2 March 2022 [Download Here]

The 30 City and County Childcare Committees (CCCs) are also available to provide advice and support to early learning and care and school age childcare services. Contact details for your local CCC can be found at www.myccc.ie. The Department of Children, Equality, Disability, Integration and Youth has also established a national weekend Covid-19 support helpline, hosted by the CCCs, which provides support for providers who are faced with a potential or confirmed Covid-19 case in their service by guiding them through the process of engagement with the relevant authorities. This helpline can be reached on 1800 940 341 on Saturdays, Sundays and bank holidays between the hours of 10.00-13.00 and 13.30 and 16.00.

Practice Supports [Updated 6th May 2021]

This section provides tailored information for Practice Supports.

Pre-school at Home Hub

The Department has established a Pre-School at Home Hub to support parents and practitioners. The Preschool at Home Hub has lots of new and existing resources in one convenient place. Early Learning and Care settings have been asked to connect with families to support the children in their setting. Some guidance to support you in relation to connecting with parents is provided below.

To visit the Pre-school at Home hub click on the link here:  Pre-School at Home Hub

FAQs will continue to be updated at appropriate intervals
Visit the First 5  website for more information and click on 'Guidance for Providers and Practitioners'.
The new childminding webpage www.gov.ie/childminding is now live. On the website you can find Childminder Guidance during Covid 19.