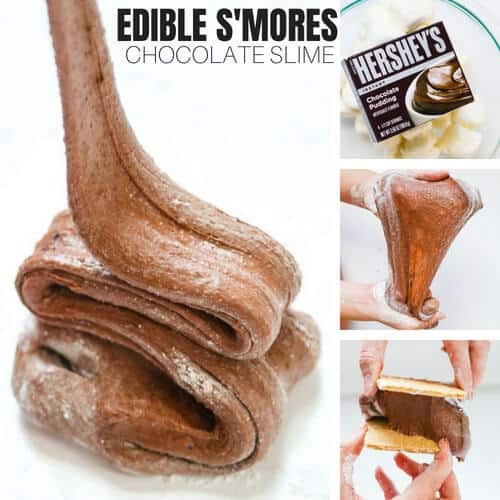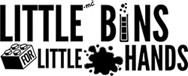 https://littlebinsforlittlehands.com/
Edible slime can be made of…
Candy
Condensed milk
Chocolate
Cornstarch
Corn syrup
Powdered sugar
Marshmallows
Oil
Read on to find out how to make edible slime your kids will love!
WHY MAKE AN EDIBLE SLIME?
Some kids are still in the tasting everything phase of life and our traditional slimes are NOT taste-safe, even just a bite. Therefore, you need an edible slime recipe instead.
Or maybe you need to accommodate kids of multiple ages and need to make sure everyone has a safe experience (just in case there is a nibbler in the group).
Some kids might also have sensitive skin to the common ingredients in slime activators, especially if they are already sensitive to laundry detergents, soaps, and cleaning products.
Lastly, you may just not have access to some of the different supplies needed to make our basic slime recipes.  But you do have the edible slime ingredients mentioned above in your pantry!
CAN YOU EAT EDIBLE SLIME?
Yes and no! Edible slime is non-toxic and made without borax. However, is it a slimy snack for your kids to chow down on? NO! Although everything is labeled edible, I like to think of these slime recipes as TASTE-SAFE.
If your kids taste it, they will be safe. With that said, some of these recipes will be tastier than others anyway. Some kiddos will naturally want to taste slime and some won't. Always keep the needs of your kids in mind when making slime!
DISCLAIMER: Please double check all food allergies among kids making these slime.  We never recommend that edible slime be eaten as a snack.
No more having to print out a WHOLE blog post for just one recipe!
Get our borax-free slime recipes in an easy to print format so you can knock out the activities!
https://carlowccc.ie/wp-content/uploads/2018/10/ccc4.jpg
0
0
Carlow Childcare Committee
https://carlowccc.ie/wp-content/uploads/2018/10/ccc4.jpg
Carlow Childcare Committee
2021-09-24 11:26:47
2021-09-24 11:26:47
Edible slime ideas for your little ones