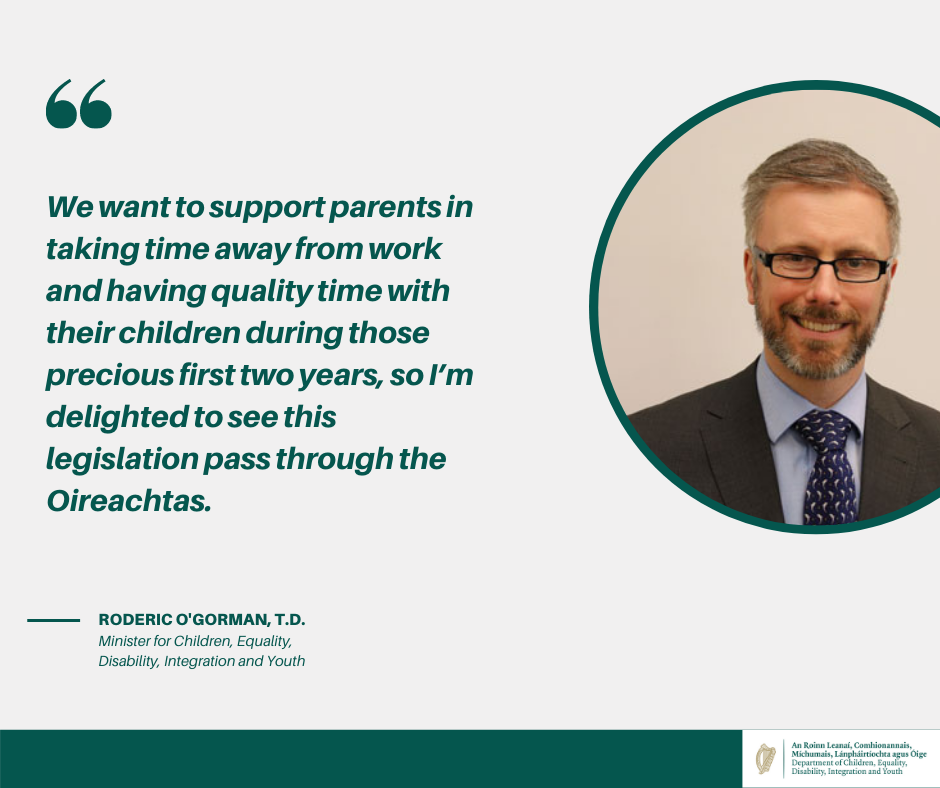 New provisions under the Family Leave and Miscellaneous Provisions Bill 2021 include:
An additional three weeks of paid Parents' Leave and Benefit to each parent to be taken in the first two years after the birth or adoptive placement of a child.
All adopting couples will be able to choose which parent may avail of adoptive leave, including male same-sex couples who were previously precluded due to an anomaly in legislation.
Paternity Leave and Benefit will be made available to the parent who is not availing of adoptive leave.
Minister for Children, Equality, Disability, Integration and Youth, Roderic O'Gorman, T.D., today welcomed the passing of all stages of the Family Leave and Miscellaneous Provisions Bill 2021.
Once the Bill is enacted, working parents will be entitled to an additional three weeks of paid Parent's Leave for each parent, and the period in which the leave can be taken will be extended to the first two years after the birth or adoptive placement of a child. The extension will allow parents to spend time with their child in the earliest years. It is non-transferrable between parents to ensure that both parents are encouraged and supported in taking time out from work to spend time with their child.
Adoptive parents will also be provided with greater flexibility to decide which parent will avail of adoptive leave and benefit, with paternity leave and benefit available to the parent not availing of adoptive leave. Fulfilling an important commitment in the Programme for Government, the Bill addresses access to adoptive leave and benefit by male same-sex couples, a provision that is of great significance for couples seeking to adopt.
The additional 3 weeks of parent's leave is available to employees and the self-employed in respect of new babies born or children adopted after 1 November 2019. The associated benefit will be paid at the same rate as maternity, paternity and adoptive benefits.
Enactment of the Bill will take place shortly after the Bill is signed into law by the President.
Highlighting the Government's continued commitment to supporting working parents and promoting greater work-life balance, Minister O'Gorman said:
"We want to support parents in taking time away from work and having quality time with their children during those precious first two years, so I'm delighted to see this legislation pass through the Oireachtas.
"COVID-19 has had a serious impact across society and working parents, especially those who have had children during the pandemic, often without the support of family and friends. The extension to parent's leave and benefit is intended to provide them with an additional period of leave to spend with their child.
"An important facet of parent's leave is to encourage the sharing of childcare and I hope that this additional period of leave will support and encourage fathers in taking a more prominent role in the care of their young child."
The Bill also provides for an increase in the number of ordinary members of the Board of the Child and Family Agency, from seven members to nine, in order to support the State in meeting its obligations to the safety, protection, wellbeing and resilience of children, families and communities in Ireland.
During the progress of the Bill through the Oireachtas, Government amendments were added in relation to the operation of personal injury guidelines adopted by the Judicial Council.
ENDS

https://carlowccc.ie/wp-content/uploads/2018/10/ccc4.jpg
0
0
Carlow Childcare Committee
https://carlowccc.ie/wp-content/uploads/2018/10/ccc4.jpg
Carlow Childcare Committee
2021-03-26 10:56:15
2021-04-27 08:30:07
Press release Minister O'Gorman welcomes the Family Leave and Miscellaneous Provisions Bill 2021 passing all stages